When you try to save a listing as New or Coming Soon, Matrix will automatically validate the listing to make sure that you have populated all required fields correctly. A lot of times, when you are trying to save a New or Coming Soon listing and nothing happens, it is because you have either skipped over a required field or filled in a field improperly.
When this happens, Matrix will display an error after you click Submit Listing:

Click on the link and you will get a list of everything that is preventing you from successfully saving the listing: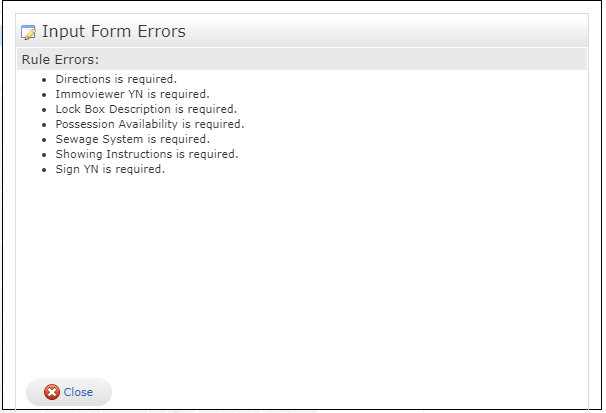 You will also see a red exclamation point on any tabs that have empty/problematic required fields:

Fix those fields and then click Submit Listing again. Once all required fields are properly filled it, Matrix will accept the listing and you will get an Input Succeeded message.
If you think you have saved a listing as Active or Coming Soon but cannot find it when you search in Matrix, chances are there were errors when you tried to save it but, instead of fixing them and clicking Submit Listing again, you closed out of Add/Edit and the listing was not activated. You will need to go back into the listing in Add/Edit and try again.
Always make sure you see the Input Succeeded message before you close out of Add/Edit.
Related articles:
Yellow warning when submitting a listing