You may have noticed that there is a yellow star icon at the top right of the screen when you are viewing listings, regardless of the report you are in (list view, full detail, etc.):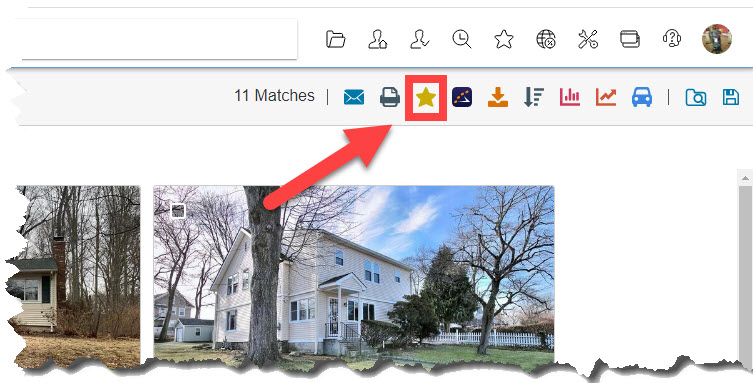 So, what's the deal with the star?
The star represents the Favorites (or My Favorites) feature within Connect, which acts like a shopping cart. When you come across listings that you'd like to keep an eye on, regardless of the type of search or report you are in, you can click that star icon and send the listing(s) to your My Favorites folder. Or, you can run a few different types of searches for a client, send the results to a Favorites folder and then send them to the client all in the same email.
After you have performed your search, select the desired listings and click the yellow star icon. You will then get a pop-up window with several options:
Decide which listing(s) you would like to send to Favorites. You can send all of your search results or just those listings that you selected.
Choose where you want to send the listing(s). You can send the listings to the default Favorites folder, or create a brand new Favorites folder (in addition to the default folder and any other folders you may have created in the past).
Add any specific notes or other information you would like to include with this new batch of favorites.
Click Add to Favorites.
You can also add a listing to a Favorites folder from the Info icon

on the far right of List View report or by clicking Additional Info in the upper right of the Full Detail report.
*****************


There are a couple places that provide access to your Favorites.
There is a star icon in the upper right corner of most screens:

You can also get to the My Favorites folder from the Shortcuts widget on the home page:

Regardless of which way you access My Favorites, you will see the same screen:

You will see the default Favorites folder, as well as any folders you have created yourself. Towards the right side of the screen, you can see how many listings are in each folder, as well as the date the folder was created.
To see the listings within any folder, either click on the name of the folder or the number of listings. By default, the listings will display in a single line report:

The listings in any Favorites folder can be the results of an individual search or they can be from several different searches. Using Favorites is a great way to gather the results of different types of property searches in one area. You can then send them all in one email, set up a Showing Cart/Buyer Tour, download them to a spreadsheet and much more.
There is a menu bar in the top left that provides many ways for you to interact with the listings:

Return to the My Favorites folders list.
Show/hide a map.
View listings in a different report.
Create a custom report (add/remove/reorder fields).
Show selected/all listings.
Quick print (no print setting options- basically a print screen)
Advanced print (print multiple reports, add maps/criteria/statistics, etc.).
Email listings.
Schedule a showing (single listing) or create showing cart (multiple properties) through ShowingTime.
Generate driving directions.
Export listings to a spreadsheet format.
Download listing(s) as a PDF.
Show/Hide statistics (minimum/maximum/median/average list price).
Sort the listings by multiple columns.
Send selected listing(s) to another Favorites folder.
Remove selected listing(s) from this folder.
You can access even more information and resources from any listing in the folder by clicking the Info

icon on the far right: