Connect provides a simple yet elegant solution for sharing a link to a listing. This can be very helpful if you would like to text a listing, post your listing to your social media (Facebook, Instagram, etc.) or email a listing to a recipient that has not been added to Connect as a Client.

When you are viewing the Full Detail report, the Share icon

appears towards the upper right corner:

On other reports, you can access this feature by going to Additional Info

and clicking Share Public Link: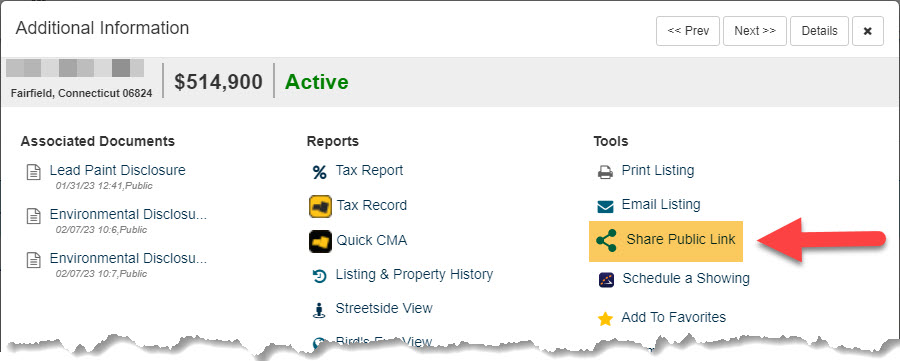 The Share feature works from all operating systems and major web browsers. It also works if you are accessing through the SmartMLS app on your iPhone or Android phone.
Note: the options you see after clicking the icon will vary depending upon the device and operating system you are using.
For example, when accessing Connect through the Chrome browser on a Windows desktop, you will see options for Windows apps (such as Mail and OneNote) alongside the option to copy the link: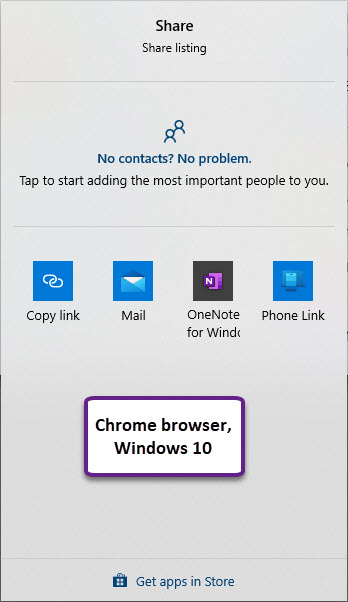 If you click Copy Link, you can then paste it directly to your social media accounts. You can also paste the link into an email (from your own email program/app) and send the listing to someone who is not in Connect as a Client. This bypasses the limitation in Connect where you can only send an email to someone you've added to your My Clients list.
This is what you see when accessing from the Chrome browser on an iPhone:
This provides you with access to the iOS system sharing options and apps.
Regardless of the device/browser you are using when you share the link, your recipient receives a detailed, public-facing listing report that provides a comprehensive view of the property, including access to all of the photos and virtual tour(s), if present.